Black Friday 2020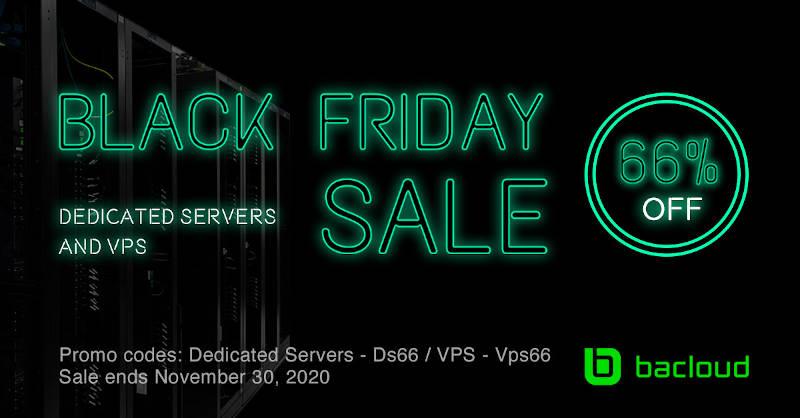 We would like to announce our Black Friday 2020 sale for the coming fall, where we will be serving our customers with some amazing discounts. Our clients get to avail the opportunity for a 66 percent discount on Windows VPS and Linux as well as a 66 percent discount offer for selected dedicated servers.
For services having payment up to a year, our clients will also get to have a discount for the first payment applicable to one service using a single account.
Services with Discounts
We offer the following services having discount offers for clients.
Windows VPS – The Windows Virtual Private Server or the VPS is managed under the Microsoft Server Operating System, meaning the servers use compatible solutions and software for the operating systems of Windows. The clients will get a discount on customized offers following one account.
Service order page: https://www.bacloud.com/en/windows-vps-hosting
Discount code: VPS66
Linux – Linux is made to perform different complex tasks in an easy managerial manner that makes it among the top choices of the people. You can easily configure servers, protect your finished and saved tasks against viruses, and configure servers.
Service order page: https://www.bacloud.com/en/linux-kvm-vps-hosting
Discount code: VPS66
Dedicated Servers
For dedicated servers, you can customize them according to your choice as you avail of said service.
BaCloud-E5v4D210D
The BaCloud-E5v4D210D, starting from 32 GB RAM, works on Linux OS and gives speedy and effective server management. You can avail of a discount on it as mentioned above through our Black Friday sale offer. Server manufacturer: DELL, service includes iDRAC enterprise and Hardware RAID controller with battery included.
Service order page: https://www.bacloud.com/cart.php?a=add&pid=161
Discount code: DS66
Don't miss out on the opportunity to get the best discount offers on the servers that come with brilliant running capacity and outstanding management systems. Feel free to contact our professionals for more details and get the best pricing schemes this fall.
Wednesday, November 18, 2020