Main services
Full control of your Dedicated server with high performance and single-tenant. It's flexible and fully customizable online. Perfect to host big websites, e-shops, CRM, ERP projects or deploy your high-resilience infrastructure.
Fast and reliable Linux private virtual servers with NVMe disks and dedicated server resources are a perfect fit for heavy databases and medium sized internet projects. Most Linux OS distributions are ready to use with instant delivery.
Reliable and high-quality Windows virtual private servers for Microsoft based applications, MS SQL and remote terminals. Customizable Windows server OS versions from 2012 to 2022, RDP, MS Office, SQL versions.
Custom infrastructure solutions, private networks and VPN, BGP, VLAN connections, Cloud solutions. It also includes integration of dedicated servers, colocation, routers and switches.
Fast NVMe hosting with easy-to-use cPanel control panel, free SSL certificate and dedicated IP address. It's a perfect fit for small to medium sized websites or e-shops.
Protect your data with our cloud-based application with a dedicated space. Reliable protection of your business and information including a simple PC or advanced server systems.
Why should you trust us?
Great Uptime
15 years of hosting experience guarantees 99.97% Server Uptime.
Wide Range of Services
Servers powered by AMD EPYC or Intel Xeon CPUs and ultra fast NVMe-SSD disks.
Award-winning support
Our technical team receives great feedback and is top rated by independent review platforms such as Hostadvice or Trustpilot.
Clients reviews
The technique support Silvetras provided me high quality of service.
He patiently teach me and help me installed WP and personal website.
I am appreciate that this supporter delivery me a good service.
I hope the boss can increase his salary. He is honest and kind-hearted guy I never met before.
Thanks
As I am a happy and very satisified customer of Bacloud for quite some time now, I need to write a review about their superb service and support.
The Bacloud sales team is always ready to help you to find the perfect server arrangement for every custom need you might have and also is always ready to negotiate a good price with you.
I am very happy and satisfied to have chosen bacloud as my new server provider, the prices are really fair and the support is amazing!
Friendly, competent and fast responses for every request I made so far! I definately recommend to try bacloud.
I have been a company customer for five months, and I have two Dedicated Servers, I see that the prices they provide are very excellent, the support service is fast, and the Products and Services are many.
Blog posts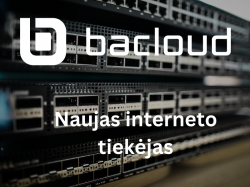 26th Sept 2023
  Bacloud komanda toliau tobulina savo duomenų centrų paslaugų kokybę ir nori pasidalinti puikiomis naujienomis apie duomenų centrą Lietuvoje....